Customer Reviews
Here's the opinion of our existing customers who have completed our customer satisfaction survey.
Please note that a 7 = satisfactory; 10 = far exceeded expectation
. We list
ALL
of our reviews here.
Customer Name
Delivery Speed
Quality
Value
Overall Rating
Date
Jane, nantwich
9
10
8
9
9 December 2014

Before ordering this full size folding bike I spoke to and e-mailed Powered Bikes and was very pleased with the way they answered my questions. They agreed to assemble the bike it was despatched almost immediately and arrived the next day. After another conversation with PB the bike was ready to ride - and it's even better than expected!

Jane
Steve, Scunthorpe
7
10
10
9
17 July 2014

Item came a little late I feel but it was just the job when it came! looks far better quality than the original it is being used at the moment! So we will see! Thanks again! Regards Steve Fitzpatrick.

Steve
Stanley, PRESTON
7
9
6
8
5 July 2014

Arrived yesterday by TNT. My wife is delighted that the item charges her battery and she can use her bike again. Would help if the 'Order Status' had been updated! Overall very happy.

Stanley
Shelagh, Cambridge
10
9
9
9
6 April 2014
Anthony, Parklands
9
9
9
9
15 July 2013

Delighted with my Husband's gift. Cycling made easy! Julie Wilson

Anthony
Ingvar, Djursholm
7
7
7
9
28 June 2013
Geert, Mol
9
9
9
9
16 March 2013
Holger, Järfälla
9
9
9
9
4 March 2013
David, Baton Rouge
10
10
7
10
1 March 2013

Winkku Lights worked well as expected,Thanks.

David
Nicola, Camberley
8
10
7
9
20 February 2013
Paul, Dublin 12
7
10
7
10
8 October 2012
edward, liverpool
9
9
8
9
29 March 2012

Very satisfied with the service and delivery time. Charger works perfectly and was delivered in very quick time,so quickly it arrived before I had time to wait in for it. I will use your service again if I need parts for my izip skyline bike. Thanks again.

edward
RICHARD, KILLARNEY
9
9
9
9
5 July 2011
gregory, south croydon
8
9
9
9
5 February 2011

Bought a secondhand Lafree Lite twist Giant bicycle in December 2010.It was an Ebay purchase for £350.Travelled to Yorkshire to collect it. What a bother, during that awful two weeks of snow. There was a slight respite and travelled to North Allerton to collect it. Whilst inspecting it i was unable to check whether the charger and battery were working properly. Anyway to my dismay i discovered afterwards that the battery charger was not working.There i was with a useless bicycle. Searched the internet for a charger replacement and came across the Poweredbikes website. I phoned Powered bikes and got talking to Hamant the owner, a very amiable and knowledgeable man. This is no two by four operation. Hamant managed to provide genuine and sincere service. So here is thanks to you for your attention and swift response to my order. The charger arrived within a week and a half after being ordered from Holland. It is working fine so far. If you do get to ordering from Poweredbikes ask to speak to Hamant. He is a Lafree Lite owner as well so he knows the pedigree of this bicycle model and its specifications and characteristics. Hamant thanks once again for your help and speedy response.All success and good fortune. Greg from Croydon, London UK.

gregory
william, london
10
10
8
9
12 May 2008

from order to delivery just 4 days, got phone call to tell me of delivery day. would recomend this company to nayone considering making a purchase from them. well done.. w.grice

william
robin, galashiels
10
9
8
10
16 March 2008

amazing service from amed and his team,brilliant bike.a must for all 40+ keeps you fit but doesnt kill you.

robin
JOHN, DORCHESTER
10
8
7
10
21 November 2007

Had a couple of queries that were dealt with politeness and everything explained without any problems. Will use this firm again and recomend it with confidence.

JOHN
Martin, Winchester
1
8
7
8
29 October 2007

Delivered a day later then promised and i wasted a days leave. After contacting you about this, i was expecting some kind of recompence on the delivery charge but have had no further correspondance concerning this which is pretty disappointing as i had just spent £660.00 on your product!

Martin
Vytautas, Mexborough
9
9
9
9
1 October 2007
dean, leicester
9
9
9
9
26 May 2007

poweredbicycles come across as a very well run professional buisness,with customer service a prority,well done.

dean
gary, blackburn
8
7
8
10
20 April 2007

This is a top site and seller who does every thing that he says he will to satisfy the requirments A++++++ Top shop and products!

gary
colin, peterborough
7
7
7
7
1 June 2006

very good service-will recommend to others

colin
Douglas, Harlow
8
7
7
7
29 April 2006

What a fantastic bike and people ,best of luck

Douglas
edward, maghull
7
9
9
9
18 April 2006
Bryan, Felixstowe
7
7
8
7
27 January 2006
Philip, Scunthorpe
10
9
8
10
18 January 2006

We have been very pleased with the overall service and are very satisfied with the goods purchased

Philip
Vincent, Manchester
7
8
9
9
29 July 2005
Item delivery (speediness, condition of goods)
Quality of the items purchased
Selection of product reviews
City Style 3s Electric Bikes
I hate my wife's bike, it is one of those from that guy Hamant at Powered Bicycles in Long Eaton. He advised her to get one of those bikes that look like they came off the Polder in the Netherlands. It is almost sit-up-and beg with a soft chunky seat and a basket at the front, which would be ideal for carrying the knitting but since she does not knit, she carries my beer for me. It has a Sturmey Archer 3 gear thingy, which I said was totally inadequate for the mountains round here in Whitby but I was over-ridden, so to speak, and Hamant got his way with her and she took his advice and went for this three speed jobbie. I did my own thing and went for one that has more gears than our cat has fleas.

Anyway, we go out for a ride and she zooms off into the distance whilst I bring up the rear. She stops and sits on a seat until I catch up with her and then as soon as I sit down to get my breath and regain my composure she hops back on her velocipede and beggars off again. My pride is battered and she can see this so she lets me ride in front so that we don't get parted and it gives me the opportunity to restore myself to my rightful position (in front) with an air of masculine dominance.

One day we were out on the old railway track and decided to sit a while on a seat overlooking the sea and soon a lurid lycra-clad came haring up the hill on his carbon fibre speed machine and a he sped past she whispered to me 'Do you think we will catch him up' – 'Don't be daft' I said – I mean after all I am sixty eight and whilst she is a mere slip of a thing, she nevertheless is not twenty one! After a while we got back on our chargers and hit the hot button. To our astonishment there was lycra-clad, just around the next corner, making heavy going up to the summit and my wife went for it. She passed him like a bat out hell and as she did so, lycra-clad nearly fell of his steed with stunned, amazement and sheer fright at the sight of my missus disappearing over the horizon with her legs splayed out, hanging on to her hat and with my beer bottles rattling with applause in the wee basket, whilst he waivered in her slip-steam.

I did not disgrace myself either because just as lycra-clad had almost composed himself (and cleaned himself up), I flew by and gave him a cheeky wink (it's that lycra you know) and he gave me a menacing glare that told me he was like Armstrong – he did not like being beaten at his own game!

One day we came out of Whitby and up towards the abbey on the steep Green Lane incline - it is so steep that the cows up there have surgical boots to enable then to walk round the hillside. We were making good going and soon caught up with an old lady trudging slowly up the rise and as we zoomed by she nearly had a heart attack poor soul and all she say was 'CRIKEY'

Yes they are that good – we have yet to find a hill round here that we cannot ride up. People say we are lazy beggars but I disagree, we still pedal along as you would on a normal bike but since the bikes go up hill without having to dismount, we feel that we are getting more exercise but without the intense heart busting effort.

We say – Go for it, just like our seventy two year old mate did, who was so taken with our bikes that he bought one too and now he can go to the pub along the cycle track and have a couple of beers without having to worry about drinking and driving. So far he has not fallen off!

Steven Beasley
Whitby
Steven Beasley
---
Mantra City LED Display
"MAKE EXERCISE A BREEZE", the words my partner now uses to explain the benefits and enjoyment of these terrific inventions. It's been over two years since we purchased our first electric bikes from Poweredbicycles, which were our first electric bikes. The decision to buy from Powerbicycles was taken after a fair bit of research, traveling around and testing of the electric bikes available at the time. We didn't have to use any real scientific evaluation to make the decision it was almost obvious to us when we had met Hamant and the team at their slightly confusing but thoroughly endearing, well stocked and welcoming shop in Long Eaton.
Hamant's passion, knowledge and desire for his product was infectious, it left all the other retailers we had visited looking dull, uninviting and uninteresting. We had planned to spend an hour or so at the shop that first day, having arrived at 10:00am, traveling from North Yorkshire. We left seven hours later at 5:00pm! Throughout the time, we never once felt pressured that we had to make a purchase, we were just given a step-by-step understanding of the technologies used in the production of the bikes, the history of the business and the choices available us.
We made endless, but vital trips to the 'testing ground', across the road with different styles of bicycles, not realising that we were being assessed by Hamant as to what we were really after, and what would be best for us. Indeed, my partner, Sarah, was initially more concerned with the look of the bike. Her aspiration was that it had some real street cred, e.g a mountain bike look alike. All the time Hamant was getting to know her, and knew exactly what bike was best for her. How right he was, Sarah is so passionate about her bike, she rides most days and calls it "Lady Penelopy". She wouldn't change it for anything.
I didn't really know what I wanted, but once I'd ridden the Mantra City, I was smitten, and I remain smitten to this day. It's a wonderful bike, both on road and even some bridleways etc. We always take the bikes with us on our motorhome holidays, which we thoroughly enjoy. Everything that we told by Hamant about the bikes, their capabilities has proven to be totally correct. After many years of heavy use, I feel we are in a worthy position to comment on this. I have been down to see Hamant several times over the past few years, and have always been made to feel very welcome. I have no concerns about recommending Poweredbicycles to anyone. My brother and his wife have recently also bought bikes from them, they too are totally happy with their bikes.
Neil and Sarah

Neil Cooke
---
City Adult Folding Electric Tricycle 36v
to all the staff at POWERCYCLES ,We were very thankful for all the help and advice that you gave to us on the purchase of my Electric Tricycle. We recently spent a week in Belgium which is very Bike friendly. It was very much admired, and we were asked many questions about it ,how far it will go how fast and how long will the battery lasts etc. Thanks again for all your trouble. Margaret and John Wilcox [ From Stoke]
john wilcox
---
City Runner Ultra Light 36V - Li-on Battery
Hi poweredbicyles and Team



Thanks again for servicing the bikes at the Shepton Mallet show. It was really helpful. We hope your presence resulted in a good few sales from the show, makng up for earlier disappointments because of the weather. As promised (and apologies for the delay!) here is a brief paragraph you can add to your reviews on the website. Please let us know the result of the battery charger testing and what if any action is needed by us now.





"We have had two City Runner bikes for 3 years. The build quality is impressive and they still look relatively new. We have used them in France, Spain, England and Wales, up hills, through vineyards, down valleys, etc. etc. and they are great. When we go away on holiday, they stack neatly on our motor caravan bike rack, snug under their waterproof covers, and the power and range of the batteries is impressive, especially when using the throttle up steep hills! We are often asked about them when on our travels. The after sales service provided by Hamant is excellent and nothing is too much trouble. We are very pleased with the build quality and the relability and would completely recommend them."



Best wishes



Ian and Karen Huckle
Ian Huckle
---
City Runner Ultra Light 36V - Li-on Battery
Hi Hamant,

we have bought them as we didn`t purchase over the internet. Please feel free to use the following:-



As avid motorhomers, we have been looking at electric bikes for a couple of years now. We have seen other peoples at campsites and even had some trial runs but never felt very confident about the products.



Then we visited Hamant in his shop in Long Eaton and just like everyone else says, he insisted we tried as many styles as we wanted in order to get the right bikes for us.



Our criteria Well we are two retired women so we wanted something light that we could lift onto the Fiamma cycle rack and something with a good bit of power for steep hills as well as feeling comfortable and safe.



In the end we bought two City Runners and they have been absolutely brilliant! The low centre of gravity and step through makes them feel extremely safe and easy to mount. We tried them on a holiday in Cornwall and we were able to do the hills around Looe, Mevagissey and Fowey!



Previously with our pushbikes going up hill, once you start to lose momentum it can feel very wobbly and you become vulnerable in heavy traffic. With the pedal assist backed up with the amazing throttle control we never have that feeling any more and are much more confident cyclists.



We also bought the double paniers and mostly do our supermarket shopping at home by bike now. Saving petrol and being environmentally frie ndly!



So we can thoroughly recommend Hamant and his staff to you!



Happy powerbicycling!
Fiona Gillespie
---
City Style 3s Electric Bikes
Hamant and his team took on the repair of an electric bike that no other company wanted anything to do with. All the other people said was, `Start again, and buy one of ours.` Hamant really went the extra mile to help me. (Ithink he quite enjoyed the challenge !)



The problem was that the Moskino company, who originally made my bike, no longer export to the UK - so I couldn`t buy a new Moskino battery anywhere. (Also the original battery casing had been lost.)



Hamant actually found a new, different battery, and adapted it to fit my bike. He worked out how to run it with an on-off switch, instead of a key (much better, actually, than the old Moskino system, because I was always afraid of losing the key). The new battery tops up much faster than the old one - which is great, as I use the bike for short, frequent journeys, and don`t want to wait six hours before I can go again.



It`s so good to have my bike back on the road - I live two miles from the main road, and often find it really hard to get out of the village when there are no buses (which is most of the time). A bike is absolutely essential for my work.



As well as replacing the battery, the people at Powered Bicycles have tuned the gears, tightened the chain, and even fixed little details like a missing dust cap. It really does feel like a new bike - and it goes like music !



What can I say Thank you Hamant !
Monica Jones
---
Parkway Li Lightweight Electric Folding Bike
I purchased an electric bike from Makro and ran it for two months after which it started to fail - the battery was running low too quickly and then stopped working completely.

As Makro couldn`t recommend a repairer I was on my own to find someone that knew about electric bikes and tried one or two places that could not or would not help me until I found Powerbicycles in Long Eaton.

Hamant and the team couldn`t have been more helpful and said to leave the bike with him and he should be able to sort me out, which he did and now the bike is better than new.

Thank you Hamant and your team, I am most grateful and would thoroughly recommend Powerbicycles to anyone in the future.


Pete Riddell,
---
Velo Trial Low Step Electric Ladies Bike
I recently purchased a Raleigh electric bike after trying it out at an outdoor show where poweredbicycles were exhibiting. The whole team were a pleasure to do business with and the bike was delivered within a few days. A minor problem caused in transit was sorted by return. It`s great to be exercising knowing that I have some help when needed although a little disconcerting that there is a slight jerky feeling in top gear if you don`t peddle fast enough! Would happily recommend Poweredbicycles in Nottingham.
Sue, Broadstone Dorset
susan
---
City Pioneer 36v Electric bike
I bought my City Pioneer it is very reliable and it is just the right size for me as I am just under 5` tall. We live in the Algarve in Portugal and there are hills I could`nt manage anymore on a normal bike. I am a fit 64 year old and now I am even fitter. I love the freedom my bike has given me to roam the countryside lanes in our area and I can nip down to the village and back with ease. Hamant and his staff are always very helpfull when I speak to him or them and they are about to send or perhaps even hand deliver a new battery to me here in Portugal. We have a 1 bedroom holiday apartment near Tavira that Hamant and his wife or his friend and his wife can come and have a holiday. The advert for the apartment is on www.holidayrental.co.uk /homeandaway.co.uk property no.88205 and is available all year round at very reasonable weekly rates.
Hamant is able to courier a new bike or spares to you anywhere in Europe but if he manages to hand deliver my new battery then I would say that is going the EXTRA mile to give good service! Well done to Hamant and all his staff, thank you all. Dawn Prosser (in the Algarve)
Dawn Prosser
---
City Adult Folding Electric Tricycle 36v
Being 85 and a non-driver, and suffering from Parkinson`s Disease which makes walking difficult, I find my tricycle wonderfully liberating. She gives me gentle exercise on hills,and she gets me to the shops and the pub and on local tours: I could not manage without her, and I find getting round exhilarating. She feels safe too, especially wIth the fitted lIghts and mIrrors.Plus service from poweredbicycles is excellent .
Regards
Brian
Brian Dowling
---
City Style 8s Ultra Light Electric Bike
Hamant was absolutely brilliant in helping me choose which bike to buy. He asked all the relevant questions to fully understand my needs. I need to get my tools on my bike as i am freelance gardener(and myself of course) from AtoB on a daily basis.Without Hamant`s excellent product knowledge and experience I almost certainly would have ended up with a bike not suitable for my needs. Thank you Hamant and your team, you are the best.
Elisabeth Gasser
---
Galileo Hybrid Mountain Style
Thank you as ever for your excellent service...Your after sales back-up is second to none. If ever anybody would like to contact me I will be more than happy to give them a glowing reference of your all round first class service...Thank you and your team once again.

Regards



Alan Herbert
Alan Herbert
---
City Thunder Ultra Light TMM 2010
Poweredbicyles Hello

I`ve now had my City Thunder for the best part of five years.

Right from the start all of the sales people were very helpful and friendly.

I was interested in an electric bike as I have problems with Asthma which limits the amount of "traditional" cycling I can do - Particularly the hills - I live in Sheffield so loads of hills to deal with!!

I`ve not done any great distances with it but it`s probably averaging somewhere in the region of 800 miles per year over the time I`ve had and it I`m very pleased with its performance - I can now easily cycle significantly more than unassisted (which to honest was very little).



The motor is powerful enough to pull me up gradual hills without any pedal assistance and can easily climb moderate hills with some pedal assistance.

I can now cycle up reasonable hills that, without assistance, would have been completely out of the question due to the asthma...

Most of the use it gets is whilst on holiday with our motorhome - this allows us to get around without having to have an extra car with us as the way the motorhome is setup and its size it`s not practical to move it every day etc..

Also I`m now cycling to work on days when I need to go into the office in town which would have been totally out of the question on a non assisted bike...!



There are bikes out there that cost significantly more than this one but as they only seem to have similar rated batteries and motors I doubt that they can offer a great deal more than this one so this seems to offer good value...



Battery life appears to be very good - Longest single journey I`ve done is aprox 25 miles and the battery was still registering full... ! - No sign of loss of power at any stage. When put back on charge it was very quick to complete the charging cycle so looks like the indicator was telling the truth....

Five years on and I`m still on the original battery and have no issues with it.



I`ve had a problem with a couple of broken spokes which when I contacted the shop they immediately sent me some replacements at no cost !!!



The people at the shop have always been very friendly and helpful. I`ve recommended their bikes to quite a number of people and will continue to do so :)

I will certainly be going back to them if/when I need to replace the bike.



Regards

Mark Harrison
Mark Harrison
---
Mantra City LED Display
i have had my mantra bike for 4 yrs purchased from poweredbicycles it is tough reliable far better than any other bikes i have looked at it is strong and sturdy and more powerful the best electric bike around and for anybody looking to have one for the first time look no further in 4years have done over 20 000 miles regards alan
alan williams
---
Galileo Big Eye 26v Lithium 10 AH
Three weeks ago we bought two Galileo Big Eye electric assist mountain bikes from you.

We definitely made the right choice as these bikes have proved to be very good on rough, stony and muddy tracks.

They coped with the Cornish Coast to Coast Cycle Path very well and had ample power left to return up a steep long hill to Carnon Downs camp site.

The bikes enable us to go further and manage hills we could not ride up with our previous mountain bikes.

We are 70 and aim to extend our cycling knowing that we have electric assist when needed.

The addition of the throttle enables a quick boost when needed particularly for short uphill sections, for example when going up passed canal locks. The throttle can also be a great assistance when moving off on rising ground.

We were not sure about the stands on the bike but found them very useful when washing the bikes and changing batteries.

Many thanks for your help.

Best wishes

Dick and Chris
Dick & Chris
---
City Adult Folding Electric Tricycle 36v
Price and customer service was excellent. The City Trike electric tricycle is very good and not too heavy. Laid on its side it will fit most estate cars. I have added a tube to the wire basket under the battery for easier man handling. Also changed the cycle saddle for a more comfortable seat. I am one highly satisfied customer.
Great for going fishing ,brillant for hilss Thanks Norman.
Norman Wright
---
Parkway Li Lightweight Electric Folding Bike
I couldn`t be more pleased with my bike - it`s so comfortable to ride! I`ve never been confident on a bike - til now! I can easily keep up with my husband, and can explore so much further. As we are currently living full time in our motorhome, this bike gives us the freedom to explore the surrounding area with confidence. The team have also been very helpful when a minor problem with the bike arose, and we were soon on our way again. thanks!
Keep it Guys
Margaret Howarth
---
City Adult Folding Electric Tricycle 36v
Fantastic trike ,brillant for hills and shopping.
Best trike i have bought so far .
Excellent Shop which deliverd to my door step all fully assembeld .
Goes through my door no problem

Edward
---
City Thunder Ultra Light TMM 2010
hi i would like leave a comment about my city thunder elctric bike . I have had the city thunder for over 3 years now it has performed well i have travelled well into the 2500 - 3000 mile mark cannot give exact figure as i changed my clock last year , the bike has given me no trouble in this time i am still getting low 20 miles from a full charge from my original battery . I took the bike to the shop for a quick check and to have a fresh mirror fitted , they are always very willing and helpful in the shop I am glad i bought my bike 3 years ago it has served me well i find it quick and nippy and very quiet when running
Had a choice of buying a wisper bikes but i am glad to buy poweredbiycles city thunder lots better
jim

jim
---
City Thunder Ultra Light TMM 2010
"Just a quick note to say what a pleasure it was dealing with Hamant from Poweredcycles. On the first telephone call he spent time answering my questions and suggested that I come over and try some of the electric bikes that he stocks. I travelled 110 miles from Preston the same day and Havant spent over an hour with me simply demonstrating the various bikes and the differnet types of systems that they had. His knowledge was incredible and whilst he manufactures his own line of bikes he also stocks many other makes. He encouraged me to decide for myself which I liked the best and which felt right for me and only after I had made my choice did he then mention that my preference was in fact one of his own models. My initial brief to him was that I wanted the best bike available, or "The Rolls Royce of electric bikes" as I put it. There were bikes in his shop at nearly twice the price of the one that I picked and dispite me telling him that cost was not an issue (giving him an open opportunity to sell me the most expensive thing in the shop) Hamant`s only concern was that I was going to take home the best bike for me and take it home I did....that very afternoon. I had not expected to be able do anything but order a bike for delivery but despite being clearly extremely busy and with half of his staff off on holiday he dropped everything to spend more than 3 hours with me in total, including a rather good cup of tea!
If you are looking for an electric bike and don`t want any hard sell, if you want to speak to a friendly, well informed, honest and genuine person who will go out of his way to ensure that you get the most appropriate electric bike for your needs then give him a call. I even got to speak to his lovely wife on the phone before I left

Marcus"

marcus
---
Parkway Li Lightweight Electric Folding Bike
Like other reviewres I had been a keen regular cyclist before my heart problems developed.I was not immediately impressed with this machine. I broke the plastic chain guard and a tag of cellotape had stuck to a battery pin so that the bike just didn`t function. It was heavier than I expected and the riding position seemed awful.However how wrong could I be.....a few cranks and a twist and off I went. The little motor cuts in almost silently and transports my overweight bulk (13st.)effortlessly.Front panniers off a conventional bike fitted on the rack as did a large expensive barbag (Jandd)I kept the tyres properly inflated never let the battery discharge below "half" and applied regular squirts of WD40.I didn`t carry out speed trials and happily cruised along at a normal cycling pace it tackled most gentle gradients with ease.So why am I using the past tense@ well some inconsiderate individual stole it from our site pitch in France.
Surely these machines must be the answer to commuters (flat areas). I cant think why there aren`t more of them on the roads. Yes ! they`re not completely green snd need charging, but for motor-home owners and caravaners they`re ideal.POWEREDBICYCLES is the site to use, service is excellent and I`ve already ordered a replacement.

Tony Sheather
---
Mantra City LED Display

I was determined to put down my thoughts in writing about my 2011 ebike experience – even though I am not normally the type to bother with such recommendations.

I had the great pleasure too meet Hamant of Powered Bicycles at an event earlier this year – and got the Poweredbicycles Voyager ebike from him.

Hamant is not only passionate with a great story about building up his ebike company but a top industry expert on the theme, with boundless enthusiasm – and I have to say charm!

I do not drive and so I was keen to get about as quickly as possible – and enjoy assisted power!

He did a great deal for me and then after some electrical problems emerged he immediately got involved determined to resolve them asap – which he did.

I average bike rides of anywhere between 1 – 8 miles and after analysing this quite carefully have calculated that all my journey time are halved on average compared to normal peddle power! But you still get the exercise and enjoyment of cycling.

Get to http://www.poweredbicycles.co.uk





Best regards


David Schindler
david schindler
---
Mantra City LED Display
"Afterdiscussing my particular needs with Hamant, I purchased an Impulse electricbike from Powered Bicycles in 2005.



It hasgiven sterling service. It is used regularly and I estimate I have cycled morethan 5000 miles.



I wouldsuggest that before purchasing an electric bike you speak first to PoweredBicycles and benefit from their extensive knowledge of the electric bike market.



CampbellPort"
CampbellPort"
---
City Thunder Ultra Light TMM 2010
I have been riding my City Thunder bike,for 2 years now,and it has exceeded all my expectations.It has proven to be a solid workhorse,reliable in any weather, Excellent backup from shop,it is now back with Hamant for its first service and I am missing it allready.
Colin (Leic)
C.P.Hall
---
City Thunder Ultra Light TMM 2010
City Thunder Electric Mountain Bike - 7 Speed

We ordered these for the local Council as we needed an environmentally
sound solution for several members of Neighbourhood staff, to travel lots
of miles efficiently. We also needed bikes that were durable and good
value for the taxpayer, with an after sales service that delivered quickly for any new
parts etc.

I can safely say that we either got lucky or our research paid off as we`ve had
excellent service from our electric bikes for the last 3 years and our staff enjoy using
them as they aid fitness, are user friendly and fun. The superb powertrain propells you
effortlessly up hills or into wind or simply ensures quick a-b journeys.
The battery lasts over a week despite extensive use and a 3-4 hour charge replenishes it.
After 3 years the only parts we`ve needed are brake pads which shows the components are of good quality.
Hammant was more than fair when we needed these too.

You can use the throttle like on a motorbike to use the powertrain, but I find the superb `assist` function
to be the best option as it seems to sense when you need more power and automatically adjusts it
for you. This also seems to be the best way of extending battery life as it never wastes the power.

The only negative is the bikes are slightly heavier than the average mountain bike with the battery in,
so some members of staff need to take the battery out if the bikes need lifting up steps etc. The battery
is so easily removed however that it`s never been an issue for us and with the battery out they`re
probably no heavier than average bike.

Overall I would highly recommend these bikes to anyone who uses bikes regularly such as commuters,
but they would also be great for shopping as you can fit panniers on the back and they shift heavy loads
such as my colleague Mick with ease!

Ash
---
City Thunder Ultra Light TMM 2010
I Purchased two Electric Bikes from Hamant`s Shop near Nottingham in 2007 , My wife and I went to the shop although some distance from our home to take a test ride before committing to the purchase and we were impressed with the attention and service of the proprietor, The Two bikes were then delivered to us in person.
My own Bike a City Thunder has been used on a daily commute, something that was previously a bit of a chore but now with the aid of the electric motor is simple in itself.
The Motor in assist mode with gentle peddling will keep me propelled at around 10-15mph but really comes into its own on hills or dead starts say from junctions. I feel Safe with the Electric motor aiding forward progress as the little extra speed for No extra effort keeps me at a good pace with the traffic in town. Crossing Junctions from a dead start is now done Quickly with a twist of the throttle in Full Power mode.
Braking is better than average thanks to the front Disk Brake (a rarity 3 years ago) .
The Quality of the Bicycle I have found to be good although a couple of components have expired with ware and tare. The Bike was supplied with Battery Charger, Racks, Light, Pump, Lock, Bottle holder and even a dust cover for when its stored in the garage. The Bike Itself is Light enough to pedal and with the Electric Motor assisting , negates the weight of the battery. This was a deciding buying point at the time as some other models were more the weight of a small moped.
This is Not the Top end Electric Bike on the Market but at the price and current Specification represents good value and the three years I have had so far of cycling speaks well of the Quality and durability.
Hamant`s Business (Scatter-goods-Powered Bicycles) near Nottingham has grown in the last three years and I will strongly recommend anyone wishing to ride down the Electric Bike path to take a look at what he has to offer.
Poweredbicyles ""
Since then these bike has undergone lots of modification.
Ie Torque Sensor with 3 levels of assist Eco, Normal and Sports
Front Rst Suspension ajustable
Can fit Different types of Mudguards (Mtb Or Full )
Velo Gel set Seat
Promax Ajustable seat Suspion
Promax front disc. rear V brake
Tektro Magnectic Cut Brake Lever
Shimano Accera 7 Speed Gears
High Torque Torque pedal Sensors motor and controller ,which make
hills looks affordless


Nadin
---
City Thunder Ultra Light TMM 2010
I bought the bike a couple of years back now so have had a good chance to get used to it and see how it's behaved over a good time period..

All of the sales people were very helpful and friendly.

I was interested in an electric bike as I have problems with Asthma which limits the amount of "traditional" cycling I can do - Particularly the hills !!

Although I`ve not done a great deal of distance on the bike, probably somewhere in the region of 600 to 800 miles over the time I`ve had it I`m very pleased with its performance - I can now easily cycle significantly greater distances J.

The motor is powerful enough to pull me up gradual hills without any pedal assistance and can easily climb moderate hills with some pedal assistance.

I can now cycle up reasonable hills that, without assistance, would have been completely out of the question...

I`m now cycling to work 2 days a week which would have been totally out of the question on a non-assisted bike...!



There are bikes out there that cost significantly more than this one but as they only seem to have similar rated batteries and motors I doubt that they can offer a great deal more than this one.

Battery life appears to be very good - Longest single journey I`ve done is aprox 26 miles and the battery was still registering full... !

No sign of loss of power at any stage. When put back on charge it was very quick to complete the charging cycle so looks like the indicator was telling the truth....

Had a problem with a couple of broken spokes which when I contacted the shop they immediately sent me some replacements at no cost !!!

The people at the shop have always been very friendly and helpful. I`ve recommended their bikes to a number of people and will continue to do so :)


Mark Harrison
---
Mantra City LED Display
I purchased my Mantra bicycle at the Chester caravan show about two months ago. I am 78 years of age, and have chest problems and arthritis,thought it would be good exercise for me, it has been great, wish I had bought one a lot sooner. Hamant, the owner of poweredbicycles ,will answer any questions you may have, Hamant and the staff are very helpfull, and do not make you feel you are wasting thier time. The service they give is the best. If you want an electric bicycle, I would say, go to powered bicycles. George Mawe.********


George Mawe
---
Mantra City LED Display
OMG! What a revelation! I took the plunge and bought the Mantra. It`s a big investment but I figured using it instead of my 4x4 for the 10 mile round trip commute 3 or 4 days a week would pay for the bike in about 8 months factoring in depreciation and wear and tear on the car. Build quality seems excellent although I've only had the bike for a couple of days and the boost from the motor means I arrive at my desk cool and collected - not hot and sticky like I did with my manual push bike but still get some decent exercise. The documentation could do with some improvement - it came with a dozen sheets of A4, not a proper manual as I would have expected for a machine of this price. Minimal assembly is required (pedals and handlebars) and the bike was well packed and pretty much ready to go. Riding is a breeze in pedal assist mode hills become flat and for the 'ultra lazy' the throttle mode works very nicely. Controls are simple and clear and despite some initial nerves about what exactly would happen when the motor was engaged these were unfounded as the provision of the power is smooth and gentle. The motor is virtually silent in operation. It's a bit early to assess the range on a full charge but I expect to use 'pedal assist' mode all the time so a week between charges is anticipated (approx 50 miles). So far so good – I'm very impressed. Must also mention the great service from PoweredBicycles – they recommended the Mantra over the phone based on my height and anticipated usage. Shipping, lights, lock, a cover and trip computer were included in the price – thank you!
Chris Stevens
---
City Thunder Ultra Light TMM 2010
Was offered a go on this bike at Uk Aware 2009. Great fun. Haven`t rode any sort of electric bike before or any sort of bike for years. Doesn`t feel that different to a fairly heavy ordinary bike. Good brakes. A positive experience
Robert Vinall
---
City Thunder Ultra Light TMM 2010

Well, what can I say, I have been riding bikes for a very long time, always considered myself to be a purist, ever seeking to upgrade. But the times they are a changing, my new electric bike. Despite its weight and long wheelbase, rides well without power, but as soon as you turn the power on, it springs to life. On peddle assist and the occasional irresistible use of the throttle, easily doing 30 odd miles on one charge, not a fast ride, but comes into its own when facing headwinds and hills. You are going to be overtaken, get the odd look now and then, but when the wind blows and the hills roll, who laughs last.
Pros. Nice electrics, handles well without power, throttle is a real treat.
Excellent backup from shop, pleased to help with any problems.
Cons. Low spec,
Shimano entry level V Brakes instead of front Disc would have been better
Overall a very efficient bike that could soon become a favourite.
Colin Leicester

C.P. Hall
---
Cruiser 4 Electric Bike
great bike for shopping when you want a change from driving would recommend to anyone
annette smith
---
City Thunder Ultra Light TMM 2010
Had a try out of the City Thunder it was very lively,plenty of power and looks great.
The CT is well geared and in my opinion was easier to ride without power than the Ezee Torq
I have an ET great bike but getting parts are a problem battery lasts about 18 months.
I have had the ET about three years I do about 1500 miles a year coming to the end of the second battery life now quoted at £395 to replace. Expensive
Steve
---
City Thunder Ultra Light TMM 2010
I bought this bike with a mind to do alot of miles with it, so i bought localy for the back up you can recieve. since feb this year i have cycled aprox 5500 miles with only 1 problem the spokes on the back wheel, which after talking to powered bikes was soon sorted with no hastle. I use the bike to go to work on and is my main transport I use the bike everyday would recomend it to anyone it does what they claim it does and more. this bike is fantastic.
rob hall
---
City Thunder Ultra Light TMM 2010
Well about time I got round to a review of what is simply A FANTASTIC BIKE !I bought the City Thunder for work about 4 to 5 months ago as work was about 20 miles return and I had no vehicle and what problems it solved. No more having to get lifts or relying on anyone else to get me to work as I worked shifts in a bakery. I was and am fully fit, and this bike allows you to put as much or as little effort in as you want.I prefer to put effort in and the health benefits are great,but these bikes are fantastic if you have things like joint problems as the pedal assist function and twist grip throttle give you all the support you need.I ride my bike all the time and its a sheer joy.All I can add to my comments is that this piece of engineering is the best thing I have ever bought!!!
And the guys in the shop were knowledgeable helpful and courteous.I have waited a few months to write my review but all I can say is what a superb bike!
conrad
---
City Thunder Ultra Light TMM 2010
I bought this bike as an alternative to my motorbike, as i wasnt getting any regular excercise and also wanted to save money in the long term on the commute to work. its the best decision i have made in terms of transport. Hills are no problem (especially as i have a knee damaged by years of sport) and the commute takes me 5 mins longer than the motorbike over 10 Miles. The bike has been sturdy and easy to handle and even survived a crash with a motorist who didnt know how to use her indicators. The only damage being a split mudguard. So if you want a bit of excercise, to save some money and pass everyone on the uphill journey, then this is the bike. Oh and it looks good too.
Terry Cross
---
City Thunder Ultra Light TMM 2010
I have been a very keen cyclist for most of my life cycling up to 8000 miles a year but after a serious accident while at work I am now disabled and unable to walk. My Electric City Thunder has given me a new lease of life.

I have cycled over 1000 miles in less than 3 months with no problems apart from a loose crank. I must also say that the staff at www.poweredbicycles.co.uk in Long Eaton Nottingham have been amazing, I took my bike for its free first service today and was amazed when Hamant the owner of the company called me himself to say that the cycle was all ready for collection on the same day, now that is what I call service.

Because of my disability I got my bike through a scheme called Access To Work. All I had to do was choose my bike and www.poweredbicycles.co.uk and the company that I work for did the rest. It is a great scheme and for anyone with a disability who wants to cycle to work.

Unlike most other Electric cycles that I have seen the City Thunder looks just like a normal light weight bike, and it is. I also find it one of the most comfortable bikes I have ridden. I think this is because of the long wheelbase and the light weight.

I have been very surprised by just how far on a single charge the bike will run for. I have been getting over 27 miles on full throttle and peddle assist at the same time. Using peddle assist mode and switching off the power on the flat or downhill I have cycled over 45 miles and still not run out of power. I think another reason for the amazing performance is because I asked to have the standard chunky tyres changed for City Jet tyres.

Stuart
Stuart Jones
---
City Runner Ultra Light 36V - Li-on Battery
Hello, just a short note to let you know that my wife is delighted with her City Runner. It has given her a new lease of life as far a cycling is concerned, also for me as I am now able to go for bike rides with her. We are both looking forward to our holiday in France in September with our new found mobility. Yuo did tell me in the shop that you would send me an instruction manual. Thank you for your help in selecting this bike, it is just perfect and has been admires by all our friends. Regards, Richard
,Lincoln
Richard
---
Galileo Hybrid Mountain Style
I`ve owned my Galileo for just about 6 months now and I`ve been really impressed with it. I`m only 35 and fairly fit but I found that I was getting too hot and sweaty cycling to and from work which meant I ended up leaving my bike at home through the summer and using the car which always seemed the wrong way round to me! The power of the Galileo means that I can get to and from work without working up a sweat even in the hottest weather.

The parts on the bike are virtually all branded and I`ve never had any trouble which is pretty impressive since I`ve now clocked up over 1000 miles on the bike and it gets used virtually every day. I particularly like the disc brakes (which I`ve never had before) which have incredible stopping power even in torrential rain and require virtually no maintenance, and also the full suspension which is fantastic for off-roading and makes rocky paths a breeze at speeds that just wouldn`t be safe on a non-suspension bike.

The motor only seems to work up to about 10mph for me which in practical terms means it kicks in on hills and flats with strong headwinds, but it`s amazing what a difference this makes to cycling both on and off road. I find I use my bike now more as an alternative mode of transport which I never used to do and I regularly make big shopping trips on it. I get about 40 miles off one charge and I recently made a round trip from Eastwood to Matlock Bath (via Crich!!!) in one day which I would never have dreamed of undertaking before I got this bike.

Having read around electric bike forums this bike seems to be a cut above the rest in terms of reliability and doesn`t suffer from any of the problems that get reported about other (often more expensive!) bikes such as the motor cutting out due to overheating on long hills, or rain getting in to the controller and rendering the bike useless until it has been thoroughly dried out.

Overall I`m extremely happy with the bike and would recommend it to anyone.
David Reed
---
City Runner Ultra Light 36V - Li-on Battery
OK then, here`s a bit more. Feel free to use any of it in your promotions or web site. If you recall, I bought the electric bike for my wife as a birthday present. We spend the spring and summer each year in Brittany where we have some cottages that we rent out to holidaymakers and the region suits itself exceptionally well to cycling. It is very quiet and peaceful as well as being rather beautiful. The downside is it is also rather hilly - a bit like Wales or Derbyshire but with better weather and without the traffic. In the past, my wife and I have used cheap mountain bikes but our excursions haven`t been very successful as my wife finds the hills too difficult and our bike rides have been limited to just the area very near to where we live. Which has been frustrating as there are many places of interest just a few miles further afield such as lakes and rivers but they were out of reach except by car. So, in July we bought one of your `city runner` electric bikes. By nature I`m a cynical sod and didn`t really expect it to make a huge difference so I have to admit to being stunned. It has transformed our bike trips beyond belief. I made a carrier base using fibreglass and bolted on the dog basket and my wife and Ted (the dog) zoom along the country lanes with pleasure. The electric bike is only supposed to go 15mph but according to the sat nav I fitted, it manages 19 on the flat easily. My poor old mountain bike keeps up on the flat and easily beats its fancy electric cousin downhill but a different story when the uphill sections arrive. I`m a big powerful man but strain as I may, my wife can overtake me with ease and no effort when there is a long uphill road to conquer. Of course she thinks its funny as I labour away in front then she increases the throttle switch on her bike and the damn thing glides past! I`m not seeking a job on your promotion department but I have to say it really is a good bike. Not too heavy to manoeuvre into our garage or van, plenty powerful enough, its range is well beyond what we have discovered so far and it seems well made. And my wife points out is very comfortable. She makes out she pedals as she goes along but I think that`s just so I don`t complain she`s being lazy. Downsides It was a little expensive perhaps and is a noisier than I expected. But not a problem, it sounds like one of those rechargeable drills. So our verdict Five stars plus. ps. If anyone wants to rent a holiday cottage in central Brittany, get in touch with us. We also have one for sale.
http://i260.photobucket.com/albums/ii18/Poweredbicycles_bucket/sP1050936-1.jpg
http://i260.photobucket.com/albums/ii18/Poweredbicycles_bucket/sP1050936-1.jpg
a href="http://s260.photobucket.com/albums/ii18/Poweredbicycles_bucket/action=viewandcurrent=sP1050936-1.jpg" target="_blank">
[IMG]http://i260.photobucket.com/albums/ii18/Poweredbicycles_bucket/sP1050936-1.jpg[/IMG]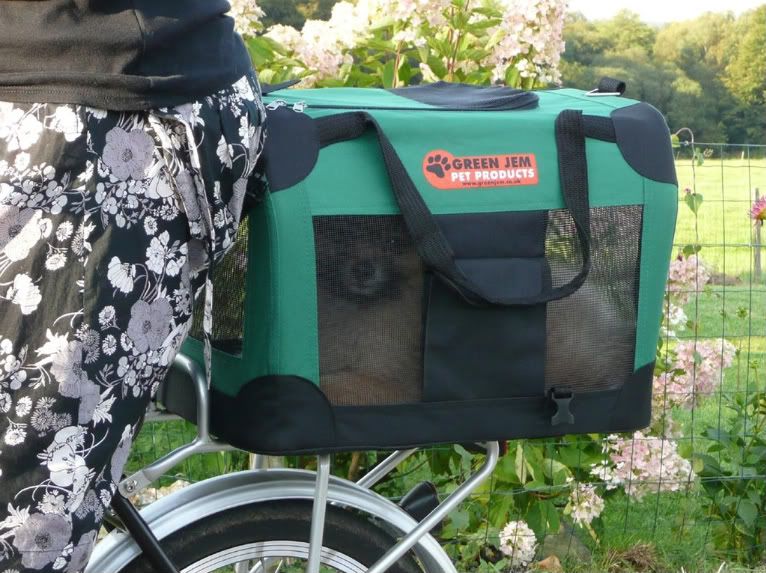 Asha chhaya
---
Parkway Li Lightweight Electric Folding Bike
I bought the Parkway Folding Electric Bike with lithium battery a few months ago on Hammant`s suggestion after he asked me a few pertinent questions such as my height ( very important ) ..... what was I using it for etc etc. I was buying blind on the internet and needed guidance. Initially I was going for another model, but he steered me in the right direction. As I said I have had the bike for a few months now and wanted to judge it on performance over time. I mark it as 10/10
I am a Granny living in hilly Devon and I love this bike. I can peddle when I want and I can fly like the wind with the throttle. The other cyclists stare at me with amazement as I overtake them !!! Others ask me so many questions about it.
Buy this bike with confidence. It will improve your life and fitness.
Thank you Hammant.... YOU ARE A STAR !!!!
Ann-Bridget Fisher
---
City Thunder Ultra Light TMM 2010
Just had a go on this bike, which my dad is looking at because he has Angina. I do a fair bit of cycling on a hybrid mountain bike, but this bike was so easy to use it was unbelievable. 3 laps round focus car park next door and I can see why the boss sells so many.
I would highly recommend visiting the shop to see these bikes, and they re not cheap, but you get what you pay for. The owner couldn`t make you feel more welcome, and had all the time in the world to answer questions and show you all bells and whistles on the range.

Tony
Tony Stacey
---
*every customer who buys from this site has the opportunity to complete our customer survey form asking them to rate our services.
The services/products offered at poweredbicycles.co.uk have been rated
based on
39
user reviews.